Orson Buggy's Big Fang Theory
Many who are familiar with my Journals of Myrth series may not be aware that not all of my humorous books for children fall into the fantasy genre. The Bumpy Daze of Orson Buggy series also revolves around an ordinary twelve-year-old boy, but Orson Buggy is no hero, and no one expects him to be.
The latest Orson adventure is Orson Buggy's Big Fang Theory. If there's one person Orson Buggy knows to avoid, it's Jason "Freak Face" Tinsley. A head taller than other 7th graders, Jason always dresses in black and has a face full of holes from the piercings he wears outside of class. He's had it out for Orson since school started four weeks ago, a fact made painfully obvious when the two of them both joined the JV soccer team. Jason's speed and agility border on the supernatural, but instead of using his powers for good, he insists on using them to elbow and kick Orson every chance he gets.
Now pets are mysteriously disappearing. The police believe they're being taken by coyotes, but the new girl on the team has her own theory: Jason's a vampire who needs dogs and cats to feed. Orson doesn't really believe her, but it wouldn't hurt to take precautions. He pulls out his garlic and cross and begins a series of tests to put the matter to rest, only everything he tries seems to lead him to the same conclusion. Jason Tinsley really is a vampire.
If you like to chuckle or you've ever felt like the world was out to get you, you're going to want to take a look at Orson's less-than-ordinary middle-school life.
EPIC Ariana Awards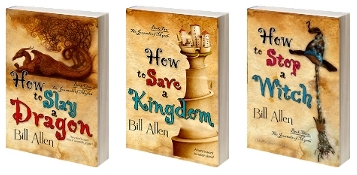 Great news! Thanks to the wonderful cover designs by Debra Dixon, all three of the Journals of Myrth books have now made their way into the position of finalists in the EPIC Ariana Cover Awards for Children's/YA Fiction. In 2012, the Electronic Publishing Industry Coalition chose How to Slay a Dragon for the 1st Place award. Hooray, Debra!
A "True" YA book: Hanging by a Thread
Since the release of How to Slay a Dragon at the start of 2011, people have referred to my Journals of Myrth books as a series for young adults, even though, with a twelve-year-old hero, they were really intended for tweens. Now, with all of the same humor as my books for younger readers, I have released Hanging by a Thread, a book truly intended for the slightly older YA audience:
Belgore the Magnificent has been performing in Vegas for twenty years. Many say he's the greatest magician of all time, but then why shouldn't he be? He holds the same distinction on Ambrosia, the magical planet where he was born and still returns on a regular basis.
Unfortunately, the thread he has set up to pass between worlds will eventually destroy the Earth, and the only people who know his secret are three fellow magicians trapped on a prison planet far away. To escape they must turn to Cutter, the most feared prisoner at Facility Twenty-four, a man who has questionable motives of his own.
Throw in the pair of incompetent mobsters who have been tasked to stop them, the innocent family who unwittingly join in the chase, and the competition for the beautiful Rory's affections between her boyfriend, Trent, and the awkward Cloyd, and you have the makings of one ludicrous adventure.
Amazon Best Seller: How to Slay a Dragon

Twice since its release in January of 2011, How to Slay a Dragon, Book One of the Journals of Myrth has spent a week as Amazon's #1 in all of children's fiction. Here's a sampling of what people are saying about it:



There are so many fantasy books out there in the market today, that it's very, very rare to get your hands on one that is so different from the rest - with so many fun characters and a truly exciting plot - that when it does happen, readers should flock to their bookstores...And Bill Allen has most definitely begun a series that is completely unique and absolutely "flock-inducing."
---
| | |
| --- | --- |
| How to Slay a Dragon is a wonderful quest fantasy starring the last person one would expect to wear the mantle of prophesized hero saving the world from a powerful dragon. | |
---
...A combination of Diary of a Wimpy Kid, Chronicles of Narnia and The Hobbit, How to Slay a Dragon is a cute juvenile fantasy.

...a wordy adventure into the realm of fantasy steeped with enough action to draw you in and enough word play to keep you thinking (and laughing) along the way.

...an exceptionally good book that anyone would find endearing.

...one of the best books for middle grades I have read in a long time.
---
| | |
| --- | --- |
| ...a wonderful book full of imagination and charm. | Just Books |
---
...Mr. Allen grabs your attention at the very first chapter
and keeps Greg running all throughout the book.
---
| | | |
| --- | --- | --- |
| ...I will be waiting impatiently for the next installment. I love the comedy, the action and the surprise ending to this clever story and hope Bill Allen will make a second journey to the land of Myrth. | | Novelspot |
---
READ IT IF:
You like action-adventure books.
You enjoyed the Harry Potter series and other similar book series.
You like your characters and books snarky


FOCUS interview - 4/4/11



Trailer - How to Slay a Dragon



Visit Greg Hart
on facebook.


Visit Bill on
facebook.