EPIC Ariana Awards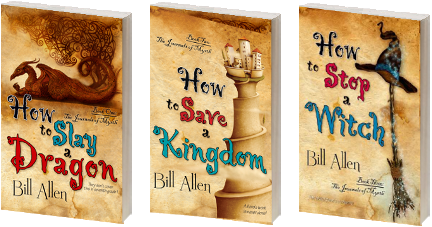 Thanks to the wonderful cover designs by Debra Dixon, all three of the Journals of Myrth books managed to make their way into the position of finalists in the EPIC Ariana Cover Awards for Children's/YA Fiction. In 2012, the Electronic Publishing Industry Coalition chose How to Slay a Dragon for the 1st Place award. Hooray, Debra!
FOCUS Interview
Thanks to Pearl Ollie and all the great people at Channel 49 in Brevard, the world was able to hear Bill Allen speak about his first book in the Journals of Myrth series. Those who managed to stay awake through the experience should be commended, but I think all would agree that Bill should probably stick to writing down his thoughts.
Trailer for How to Slay a Dragon
I consider myself very fortunate to have met Debra Dixon, a woman who enjoys helping new writers get their start. She takes a very hands-on approach to publishing and gave me personal advice on how to improve what was originally my Greg Hart Trilogy, creating three magnificent book covers and preparing this trailer for my first book in the Journals of Myrth series. What can I say? The woman does it all!
How to Slay a Dragon Hits #1

Twice since its release in January of 2011, How to Slay a Dragon, Book One of the Journals of Myrth spent a week as Amazon's #1 in all of children's fiction. No, really. There's proof. Here's a sampling of what people have said about it:
There are so many fantasy books out there in the market today, that it's very, very rare to get your hands on one that is so different from the rest - with so many fun characters and a truly exciting plot - that when it does happen, readers should flock to their bookstores...And Bill Allen has most definitely begun a series that is completely unique and absolutely "flock-inducing." --Feathered Quill Book Reviews
How to Slay a Dragon is a wonderful quest fantasy starring the last person one would expect to wear the mantle of prophesized hero saving the world from a powerful dragon. --#1 Hall of Fame Reviewer
Harriet Klausner
Bill Allen weaves a story that will have you glued to your seat, with your eyes in the book, from page one. Trolls, dragons, witches, you name it and you'll probably find it in this fast moving story. The trials that Greg faces are too much fun! (Well maybe not for him, but definitely for the reader.) You get to follow him as he grows and changes, and by the time the end of the story comes it is almost heartbreaking. --Hopelessly Devoted Bibliophile
...Mr. Allen grabs your attention at the very first chapter and keeps Greg running all throughout the book. --Long and Short Reviews
READ IT IF:
You like action-adventure books.
You enjoyed the Harry Potter series and other similar book series.
You like your characters and books snarky --Second Bookshelf on the Right